As industry veterans with an eagle eye for excellence, we've fine-tuned our services to be customizable, affordable, and trustworthy. Honestly, we're fencing nerds who love providing property owners (like yourself) with beauty, privacy, and security. Our teams are made of courteous non-smokers on a mission to get the job done right the first time. Whether you need a quick repair or a new fence, we're chomping at the bit. Get in touch already so we can blow you away with our world-class fencing services!

Install Beauty and Peace of Mind
From brand new homes to older models needing fresh fencing, we've done it all. Installing a new fence is a singular opportunity to elevate your property's aesthetics and security — and we were never ones to let an opportunity go to waste. Using kiln-dried, high-grade lumber, we install privacy fences that are customizable from the ground up. All premium fences are covered with a five-year warranty because we want to keep you secure long after we leave your property. Learn more today!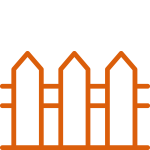 Make Your Fence Whole Again
Whether your fence has a gap due to a bad driver, a crazy dog, or simply age, it can't do its job like this. Let us get it back up to snuff. We'll assess the damage for free, provide you with a comprehensive, no-obligation quote, and then get to work if you give us the green light. This is a convenient, budget-friendly service essential to homeownership. Get in touch today.
Brands & Suppliers We Work With